Florida Golf Trail limited in scope but heavy on discount green fees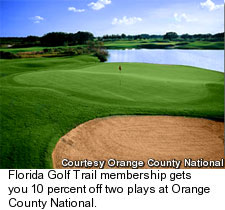 ORLANDO, Fla. - Ever since the bureaucrat-invented Robert Trent Jones Golf Trail started pouring money into Alabama's state retirement system, copy-cat concepts have popped up sporadically.
Most are little more than marketing schemes, lacking the drawing power of a classic golf architect (not to mention any residual social benefit). Still, it's a wonder Florida hasn't jumped on the bandwagon, with its 1,200-plus courses, more than any other state in the union.
Actually, there is a Florida Golf Trail (flgolftrail.com), though it is much more limited in scope than the RTJ Trail.
The Florida Golf Trail could rightfully be called the Orlando Golf Trail, though none of its courses are technically in Orlando. More accurately, it could be called the Central Florida Golf Trail.
A group of golfers in Sebring came up with the idea and formed a limited liability company. They got 17 golf courses, 12 restaurants, five lodging facilities and other tourism-related businesses - including, somewhat incongruously, an airboat company in Ft. Lauderdale - on board.
An annual membership costs $29.95 and gets you "discounts, incentives, free products and free golf" potentially worth hundreds of dollars a year, according to the company Web site, which adds, "Most members will pay for their membership the first time they use our discount card."
Upon joining, you get a discount card, a voucher for a free wedge (shipping not included) and a free golf-bag tag. The card gets you "up to two discounts or services per partner per year."
It's all designed around the portion of US27 that skirts Orlando to the north, west and south. Not surprisingly, the trail features four golf courses in Sebring along with some of the region's best known tracks, including Orange County National, site of the recent PGA Merchandise Show's demo day.
Another notable partner course is Southern Dunes in Haines City, about which a TravelGolf.com review enthused, "It's a course worthy of its national audience, one that could ruin Florida's reputation as a state with only two-dimensional golf courses."
There's also Mission Inn Resort and Club, a cozy, family-run complex outside Orlando with two courses, the excellent El Campeon and the friendlier Las Colinas.
All the partner courses offer discounts to Florida Golf Trail members, generally 10 percent (although two of the Sebring tracks, Panther Creek and Cougar Trail, require only that you pay the cart fee).
There are 12 restaurants in the deal, four of them Beef O'Brady's outlets in various cities, with varying discount offers.
March 15, 2007